A complete and perfect solution from our company was finished in St. Paul, MN recently. The operator of that court praised us and appreciated for our professionalism.
Currently court lamp suppliers on market compete light efficiency blindly. If A makes 120lm/w, then B will do 130lm/w. If B 130lm/w, then C...... Actually high light efficiency alone is far away from an ideal effect. Stadium luminaires have to meet visual pursuits of athletes when they race, which lowers the objective influence the lighting brings to the race to minimum; to meet the audience's visual requirements, which minimums the discomfort feeling when they watch; to meet the illumination request of TV broadcast, which raises broadcasting effect. But there are few supplier who can meet these requirements. Because to make these well done, it is obligate to meet lux levels, lux evenness, UGR control, horizontal & vertical luxes, and videoing distance etc., which is enormously related to race fields / match courses, environments, installment ways ( multi-towers, light bands and side mixing type) etc.. Here is an example of 4 light towers to compare and illustrate: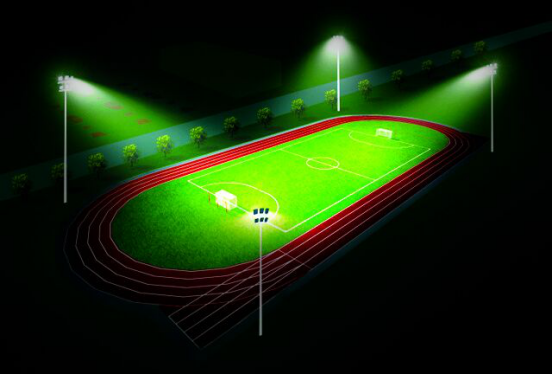 From the picture above, normally court high masts on 4 towers are with narrow light beams, which solve long-distant lighting problem well, which is no doubt correct. But there will be a new problem coming. It becomes very dim even dark under the luminaires and nearby, which brings not only very bad light uniformity, but also very low vertical evenness and huge glare etc. many problems. How to address these problems? This will have to make up short-distant lighting. Then a line of big viewing angle lamps should be filled in between the 4 towers to supplement lights in the front of the high masts, to make the front lux stronger, then bring increased illuminance uniformity. Pls kindly view the lighting effect our company makes.